The Andaman and Nicobar Islands are a group of islands at the juncture of the Bay of Bengal and Andaman Sea, and is a Union Territory of India.

The territory is 150 km north of Indonesia and 550 kms from Phuket, Thailand seperated by the Andaman Sea. It comprises two island groups, the Andaman Islands and the Nicobar Islands.

The territory's capital is Port Blair.

The total population of ANI is about 5.00 lakhs with about 40% of working population which counts to about 1.5lakh of the workforce.

Andaman Nicobar Islands are well connected by air with daily flights from Chennai, Vizag & Kolkota (Jet, Air India, Go Air, Indigo, Vistara)

Andaman has various water sports facilities for sail boats, para sailing, water scooters, rowing boats, kayaks, paddle boats, water skiing etc. Snorkelling and scuba diving is the most favoured tourist activity in this region.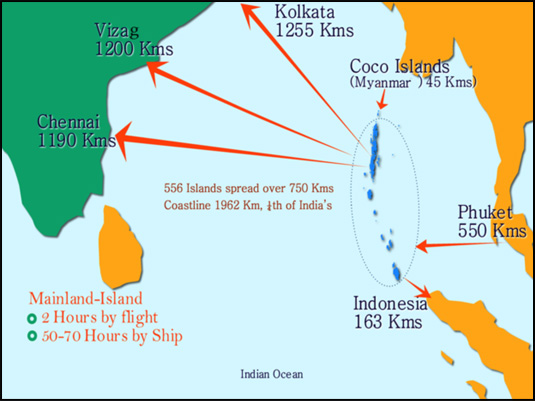 Port Blair – Corbyns Cove beach, Wandoor beach, Chidiya Tapu

Neil – Sitapur Beach, Bharatpur Beach, Laxmanpur Beach

Havelock – Kalapattar Beach, Elelphant Beach, Radhanagar Beach

Little Andaman – Hut Bay, Butler Bay Beach

Beaches in Middle & North Andamans
Tropical Paradise on Earth, one of the top beach destinations in India.

Known for the scenic beauty, tropical climate, virgin beaches, turquoise blue waters.

Havelock, Radhanagar beach voted as the best beach in Asia in 2004 by Time magazine.

Luxurious vacation destination for family, honeymooners, wedding destination

Excellent water sports, scuba diving, game fishing & snorkelling.

Air port infrastructure being developed. Future direct flights to Singapore, Bangkok & Kuala Lumpur

Foreign cruises/ yachts visiting Andaman's and a yacht marina is being planned.

Excellent law & order, corruption free, poverty free & self sufficient. Indian law & jurisdiction.

Availability of hospitals, transport facilities and other essential items.
Snorkelling experience – rich marine life and corals

Scuba diving – Certified & Trained dive centres to explore hidden treasures of the sea

Game fishing – Tuna fishing

Visit thtough Barren Islands – only active volcano in India

Limestone caves – Baratang

Turtle Nesting at Kalipur beach, Diglipur

Ross & Smith Islands separated by a sand bar

Jolly Buoy – A tiny paradise for snorkelling and glass bottom rides

Exploring through mangroves at Rangat

Water sport activities at Carbyns cove, Neil Island